Are you stuck in the 9 to 5 rat race?
Do you feel like you're not being paid what you are worth?
Do you feel like you could be doing something much more enjoyable and fulfilling during the day?
Have you hit a plateau in your career and feel like there's no way to get ahead?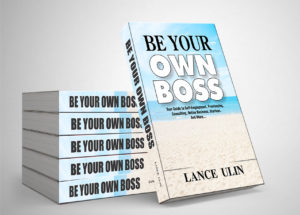 If you answered yes to any of those questions, then this book is for you! Achieve not just financial freedom but freedom over your entire livelihood. As your own boss it is you that dictates what you do throughout the day, and it is you that determines how much you are paid.
However, diving into the world of self-employment and entrepreneurship is not without it's risks. This book will guide you through the various pathways that you can forge for yourself as an aspiring business owner. Be Your Own Boss examines the various areas that successful entrepreneurs take in order to achieve success and true freedom.
Do you envision yourself working from Rome one day and then Thailand the next? You can't do that with a dead-end job or with a boss that demands the majority of your time. You CAN do that if you take the necessary steps to start your entrepreneurial journey. That is why this book exists. Be Your Own Boss provides the instructions that you need to successful start your money making adventure!
Self-employment is major topic covered in Be Your Own Boss because for most successful CEOs and entrepreneurs it is the first step they take. Billionaires like Elon Musk and Jeff Bezos started off as self employed solo entrepreneurs before they built their massive empires.
Freelancing is another way that emerging or established professionals can begin their self-employed journey. Although many freelancers including myself have taken unorthodox paths in their freelancing success. Be Your Own Boss can provide the strategies and guidance needed for anyone to become a successful freelancer. This book will help set you up for success by teaching you the ins and out of various freelancing platforms and how to go about building your client pipeline.
There many different paths one can take when it comes to consulting and your skills and experience will determine how you make consulting work for you. Be Your Own Boss takes the approach of using freelancing to build up your skills before moving on to more professional high-level consulting and advising. For example, I personally started off freelancing for various sales and marketing campaigns in more entry level and mid-level roles before becoming an adviser/consultant for startups.
Online businesses are another great way to generate income and there are many different ways to go about doing this. Be Your Own Boss uses the approach of online businesses as a way to compliment the work that you already doing with freelancing or consulting. For instance, Let's CEO is an online business that is directly related to a consulting agency, Ulin Consulting.
The book also explores the world of startups and how to about making your first hires. Be Your Own Boss teaches you how to scale up your solo venture into a full fledged startup company. We dive into the various ways your company can obtain funding and how it can continue to grow. We examine the different infrastructure your business needs to have in place as your team continues to expand.
Be Your Own Boss was written and published by me, Lance Ulin. I am the CEO of Ulin Consulting and the founder of Let's CEO. I have been advising startups in the areas of sales, marketing, operations, growth, scalability, ect for many years now. My team, Ulin Consulting, works with many clients located all around the globe.
For inquiries regarding our consulting services please contact us at our website: www.ulinconsulting.com
Be Your Own Boss is available online on Amazon, Google, and Barnes & Noble and wherever ebooks are sold.
Physical copies of Be Your Own Boss will be available this fall!