Team building is an essential component of the growth of your business culture. Studies indicate that roughly 75% of employers rate teamwork collaboration as "very important". Whether you are a company that just formed a new team or if you have been working together for years, team building activities are a great way to foster a sense of camaraderie and teamwork.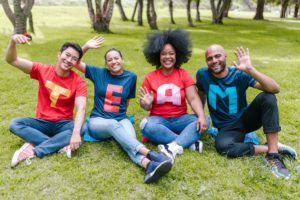 Why engage in team-building activities?
As an entrepreneur, team building activities may not always be at the top of your list of priorities, but doing so offers synergy, cohesiveness, and many other perks that your business can reap. Some of these include:
Motivating employees
Increased communication
Boosting productivity
Positive reinforcement
Improved collaboration
Higher job satisfaction
Encouraging creativity
The core idea behind team building activities is to empower individuals to contribute toward a common goal. In fact, the very success of a business depends on the ability of its employees to understand each other's strengths and weaknesses and work together as a team, all while delivering quality work.
Top team building activities for your employees
One of the key reasons why simple games and activities end up bringing drastic changes in a workplace is their ability to help employees step out of their comfort zone. Simple yet engaging activities provide a platform for team members to break the ice in an un-intimidating manner and take their teamwork to a whole new level.
So if you are looking for some new and exciting ways to team-build, you have come to the right place. Below are a few fun and creative top team building activities that will bring your employees together and allow them to bond in no time.
A little trivia goes a long way.
There's nothing better than hosting a little friendly trivia day or night to get your employees out of their shells when it comes to top team building activities. Surely, this may sound a little old school and perhaps even dull to some, but it certainly does the trick if you are trying to team-build. Hosting trivia as part of top team building activities is an inexpensive alternative, especially for businesses on a tight budget. Plus, it is not limited to your office building only. There are plenty of options on where you can hold a trivia event.
Not only this, but if you are trying to bring your employees together, trivia can also act as a great ice breaker, especially for new hires who don't already know one another or those who work remotely. Not to mention, it is a great way to learn a few fun facts. While you are at it, consider offering some incentive for the winning team. This may be free lunch or even gift cards; You'll be amazed how it works wonders in encouraging more and more employees to participate.
Letting loose with potlucks
Potlucks are another great team-building activity that definitely sounds like a recipe for success. After all, who would want to pass up on food and fellowship? So if you're going to have something a little more informal yet guaranteed to bring your employees together, consider having a potluck lunch at your workplace. From being a monthly, quarterly, or even a themed potluck on holidays, the options are endless, and your employees will have a ball bringing in food and sharing it with co-workers over small talk.
If you are in the mood to get a little more creative, try planning a "get to know everyone" potluck where all your employees bring in their favorite dish. The more fun and interactive the potluck is, the better the chances of team building and bringing your employees together to boost productivity. So let your employees show off their cooking skills and spend some time getting to know one another over some good home-cooked food.
Coming together for the community
While focusing on your business and constantly engaging in ways to become more successful is important, setting aside a little time for a good cause is definitely worth the while. So why not get your employees involved in doing good deeds and giving it back to the community?
Try sitting with your employees and decide what cause you want to help out with. When it comes to serving your community, the options are endless. Divide your employees into teams and get them to volunteer at an animal shelter or serve meals to the homeless or even deliver meals together to the elderly. This way, your team isn't just coming together to work on a task but also feeling fulfilled by doing something good for the community. It's a win-win situation for everyone.
Showing off your team's sportsman spirit
As entrepreneurs, we all love showing off how our employees worked together as teams and surpassed the targeted goals for the month or even the year. Why not show off your squad at a sporting event to showcase your team spirit and work on team building. Doing so not only helps your employees break the regular work cycle but also bond together as well as improves job satisfaction.
So check out which games are happening in your area and take your team out to a ballgame. Add a little flair to your team by engaging them to work together and paint their own T-shirts that everyone can wear to the game. Take plenty of group photos and post them on social media with witty captions to get even more exposure. Posting team events on social media help you engage with customers and allows you to spotlight how amazing your team is.
The bottom line:
Remember! The most successful and memorable top team building activities are the ones that don't feel like just another day at work. Simply spending time together sharing an unforgettable experience or working towards a common goal allows bonding to happen more organically and far more effectively.